OK, so I've taken a break from searching for a white debutante dress and walking around the kitchen with all my cookbooks on my head to let you all in on a very exciting development in my blogging life.
I have awoken this morning to find an acceptance email from The Lady Bloggers Society. Whoo!
Being new to the world of blogging and Twitter I'm still going hell for leather (whatever the heck that actually means - something my Mum says!) at the networking, reading, surfing, following and writing thing. I just can't get enough. But all my hard work (is it really work though? When I enjoy it so much!?) is paying off as I'm receiving responses to my blogs, getting links to relevant websites and being accepted by such lovely (and brand new) societies as this!
So no I can proudly display the following button: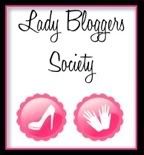 The Lady Bloggers Society is a new networking site where us female types with a penchant for blogging our innermosts can 'meet' (in a virtual sense of the word) other people with lady bits who also like to put their happenings, thoughts and feelings down in words on this inter-hyper-global-virtual world that is the Internet.
Feeling a little society or button envy? Pay a visit, have a read, see what you think, maybe join... go on, what have you got to lose?
Have fun!
From a stupidly over excited (and possibly not very ladylike at this very moment) Potential Mummy B